"Here Comes The Sun!"
an official event for Global Astronomy Month (April 2010)
*** LIVE HERE!!! ***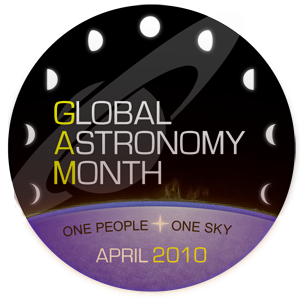 NB: to join this free event, you will just need to access this page at the date/time given below!
Current date and time: UT
The Sun will be a real "star" during Global Astronomy Month (GAM2010, April 2010)! Switch on your computer, log on the internet and join our online, remote observing session, to spy our closest star! Meet other friends online and share your thoughts with them. You will see: the Sun has never been so amazing.
Join us on April 11, staring at 12.30 Universal Time!
Don't miss Global Astronomy Month, and be ready to celebrate the Universe with us!
For more information or if you have questions, please feel free to contact us.
To learn more about the Global Astronomy Month, click here.