"Asteroid (433) Eros close encounter"
4 February 2012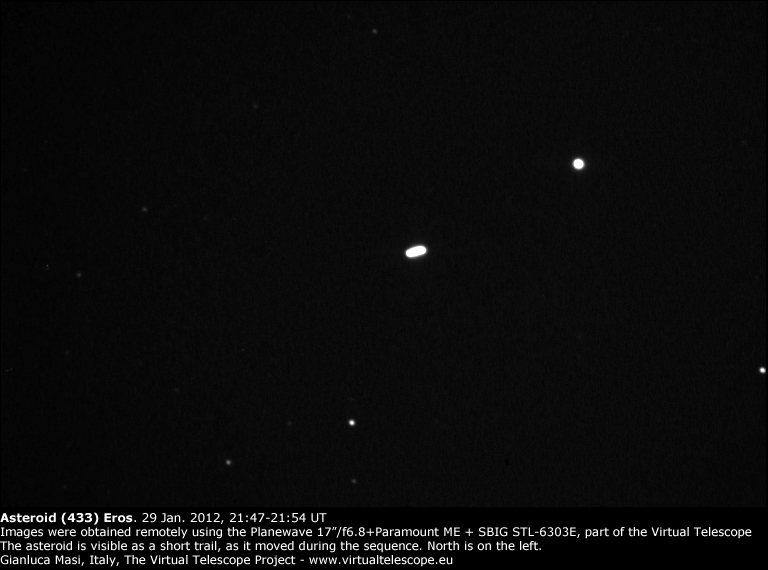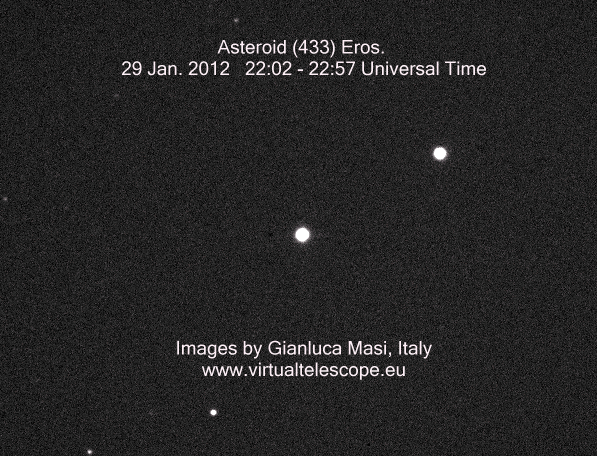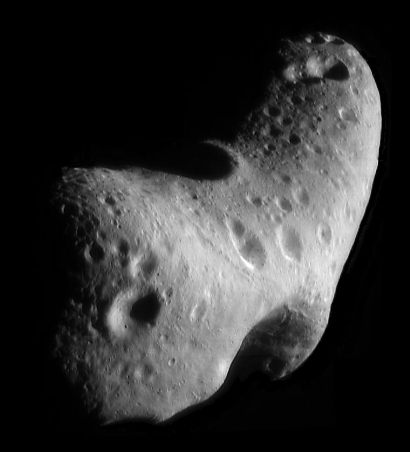 The event is scheduled for FEB. 4, 2012, at 00:00 UT. Don't miss this amazing live event. In case of bad weather, the event can be rescheduled or changed with another session.
- English description (descrizione in Italiano nel seguito)
A new, rare event is ready to happen up there. After about 40 years, asteroid (433) Eros is approaching our planet, making its closest approach since 1975, reaching a distance of less than 30 millions of km (of course, no risks at all for our planet).

Asteroid Eros is of huge scientific importance: it was the first near-Earth asteroid to be discovered, back in 1898, and it was the first to be studied in detail by a space mission, in 2000.

Usually, Eros is relatively faint, but it gain brightness significantly when it approaches our planet, as in this case.

The Virtual Telescope Project will offer a online, LIVE and exclusive observing session, to follow in real time this nice cosmic show.

To join the "Asteroid (433) Eros" live, online observing session a minimum of 1 (one) euro donation is required. If you are in the condition to donate more, that would be appreciated. This way, you will support the Virtual Telescope Project and its many filantropic activities around the world.

Donations can be sent via PayPal, referring to the page below:
http:// virtualtelescope.bellatrixo bservatory.org/paypal.html

clicking on the "donate" butting and then donating the desired amount.

** PLEASE INDICATE "ASTEROID EVENT" IN YOUR DONATION! **

Please note: you do NOT need a PayPal account to donate. The PayPal form available at the url above accepts also credit cards.

The event is scheduled on Feb 4, 2012, at 00:00 UT. Subscribers will receive all the info for joining. In case of bad weather, the event will be rescheduled.
- Descrizione in Italiano (English description above)
Un nuovo, raro evento è pronto a dare spettacolo nel cielo. Dopo quasi 40 anni, l'asteroide Eros si sta avvicinando al nostro pianeta per il più stretto passaggio dal 1975: raggiungerà una distanza inferiore ai 30 milioni di km, evidentemente di tutta sicurezza.
L'asteroide Eros è di straordinaria importanza scientifica: è stato il primo oggetto di tipo near-Earth ad essere scoperto nel 1898 ed il primo ad essere studiato in dettaglio da una missione spaziale dedicata, nel 2000.
Generalmente, Eros è relativamente debole, ma acquisisce notevole luminosità nel corso di tali avvicinamenti, come in questo caso.
Il Virtual Telescope Project offrirà un'esclusiva sessione osservativa in diretta, online, per seguire in tempo reale questo show cosmico.
Per partecipare alla sessione online e dal vivo è richiesta una donazione minima di 1 (uno) Euro. Se volete contribuire con una quota superiore, siete naturalmente benvenuti.
Le donazioni possono essere effettuate mediante bonifico bancario o tramite PayPal, facendo in questo caso riferimento alla pagina:
http://virtualtelescope.bellatrixobservatory.org/paypalit.html
cliccando sul pulsante "donate" per poi indicare la somma desiderata.
** INDICATE "ASTEROIDE EROS" * NELLA DONAZIONE **
NB: per utilizzare il sistema PayPal, non occorre avere un account su tale piattaforma, potendosi adoperare anche una comune carta di credito.
L'evento è programmato per il 4 febbraio all'1 di ora italiana. I sottoscrittori riceveranno tutte le informazioni necessarie per la visione in diretta. In caso di maltempo, l'evento sarà rinviato.
For any need, please contact us.